As the Pepsi Hot Air Balloon at The Albuquerque International Balloon Fiesta, consider:
• Each year, The Albuquerque International Balloon Fiesta hosts more than 800 journalists from around the world, making Balloon Fiesta a great match for international brands.
• In addition to national and international publicity, your brand will receive the loyalty of our guests:
– A 2006 independent survey found that 94% of Balloon Fiesta guests have a positive attitude toward Balloon Fiesta sponsors because of their association with the event.
– More than two-thirds of those surveyed said they are more likely to purchase brands of Balloon Fiesta sponsors.
2008 Summary Report
ARTICLES IMPRESSIONS AD VALUE PRINT
Daily Newspaper 334 36,357,105 $ 459,355
Non-Daily Newspaper 79 5,182,756 $ 136,539
Magazines 16 65,524,400 $ 506,365
Total Print: 429 107,064,261 $ 1 ,102,258
BROADCAST
TV - Known Values Broadcast 1378 86,309,016 $2,211,976
Total 1378 86,309,016 $ 2,211,976
TV - Estimated Values
Broadcast 157 26,199,616 $ 785,988
Total 157 26,199,616 $ 785,988
Radio Broadcast 0 0 $ -
Web 43 3,515,519 $ 11,386
Total 43 3,515,519 $ 11,386
Total Broadcast 1578 116,024,151 $ 3,009,350
OTHER
Video on Newspaper Web Sites 0 0 $ -
Other Web Sites 130 2,595,520 $ -
Newswire Services 9 0 $ -
EVENT TOTALS: 2146 225,683,932 $ 4,111,609
MARKET ACTIVATION / INCREASE SALES
Increase market exposure locally, regionally, nationally, and increase company sales both during and after events through the use of Pepsi Aerosports. Pepsi Aerosports can even be used in conjunction with new product introduction and a wide variety of local promotional efforts.
USE WITH AND COMPLEMENT OTHER PROGRAMS
Take events and/or areas that are already being marketed at and simply drive home the desired message with our effective marketing operations. Garner results that are amazing and are outside normal marketing tools. Instead of another sign or event stand, why not use these 100+ feet tall medias magnets that will guarantee to get results that the consumer will take with them all the way to the store.
INCREMENTAL POP TIE-IN WITH RETAILERS
At local retailers set up either a prize drawing, or post purchase prize program for a balloon ride for 2 people in the worlds largest Pepsi Super Can, or a use visual displays of the Pepsi hot air balloon to tie positive emotions to your product.
MAJOR EVENT FLY OVER
One of the best way to get the undivided attention of a large gathering of people is to fly over the selected event. We have used this for years in a vide variety of events that include NASCAR, NFL, and MLB sporting events.
SALES INCENTIVE / COMPANY RELATIONS
Motivate workforce by using as an incentive and reward program, improve inter-company communications, use with corporate hospitality and executive benefits, and increase company moral among employees.
KEY ACCOUNT RETENTION
Reward local key accounts by offering hot air balloon rides to show appreciation for business and encourage long term relationships. Perfect for enticing possible accounts with a non-aggressive sales form.
INTERACTIVE TETHER
Give the local community something to remember by allowing local customers to participate in a tethered operation. This is where the balloon is fixed to one location and ascends to approximately 15 feet above the ground while being securely tied off. This gives numerous rides to children and family members of all ages and gives them the chance to experience a balloon ride. Rides can be free or donations can be given to local charities.
MEDIA FLIGHT
Contact local media representatives and offer a exclusive story with Pepsi Aerosports and offer to give them a balloon ride in exchange.
PRODUCT SAMPLING
You know how effective product sampling is so this will provide the perfect sampling opportunity. Works great with new product introduction or various other promotions.
NOTE: Aerial Advantage, Inc. is not limited to just one of these uses. Combine our services in a variety of different ways to create an all in one media packed week or weekend to maximize your event.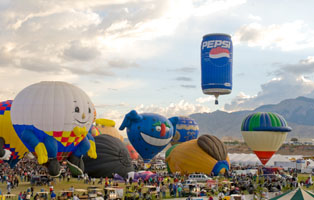 BRAND AWARENESS/PREFERENCE
Capture target audience in a relaxed, high visibility, high impact, market place that creates long lasting retention through the use of Pepsi-Cola brand hot air balloons and displays to increase: brand awareness, customer and employee satisfaction, product knowledge, brand preference, and generate qualified leads.
MEDIA COVERAGE
Dominate all areas of media coverage: TV, Radio, Print, and event attendance through operations. This type of coverage can not be purchased and is invaluable in today's influential market place. A front page cover story, live TV and radio broadcast, or a 2 minute news coverage will all garner total receptiveness among consumers. For a look at some of the recent media garnered click here "Recent Events"
EXCELLENT DOLLAR VALUE (ROI)
When compared to money spent on other forms of marketing this is a far more effective and cost efficient tool. STOP WASTING MONEY on small ineffective banners, poor sponsorship on local events with no actual results, or 2.3 million for another 30 seconds of air time that achieves a low percentage success rate and poor ROI. Advertise using hot air balloons and achieve rates as high as 90% and even greater ROI, include the amount of reach and frequency this program offers and you have a one of a kind marketing vehicle that must be used in today's market place. Measurable by studying jumps in local retailer sales both during and after event, product sold at local event, and repeat purchases during and after the event. Add in the reach and frequency figures for all the collected media coverage, event attendance, and all external coverage customer are exposed to and you are left with a incomparable form of marketing.
HOT AIR BALLOONS POSSESS A UNIVERSAL AND MAGICAL APPEAL
Every walk of life is enticed and captured by these larger then life marketing vehicles. A wide range of age, ethnicity, gender, and personality is represented in a non-bias form.
UNMATCHED FOR EFFECTIVE MARKETING
Unlike other marketing forms, consumers do not ignore and filter out the message, event attendees specifically attend to watch and be amazed by this form of marketing. Event attendees are in a positive, open frame of mind, and are very impressionable.
EXTENDED REACH
Along with the priceless media coverage, add the millions of people who share photos, stories, and experiences of the balloons with family and friends, and it greatly expands coverage and generates powerful word of mouth. Balloons are photographed and displayed extensively in all media, offices, and homes year round
CHARITABLE AND COMMUNITY INVOLVEMENT
. Participating in these events will provide increase in local travel and tourism for businesses and provide community members along with their entire family with a memorable and exciting event to attend while improve the quality of life for everyone.